Life-Changing Dog Training Results
Nothing makes our day better than learning about the difference we made in the lives of a family and their dog. Here are just a few examples of the life-changing results that our dog training programs deliver.
---
Snickers: Serious Dog Aggression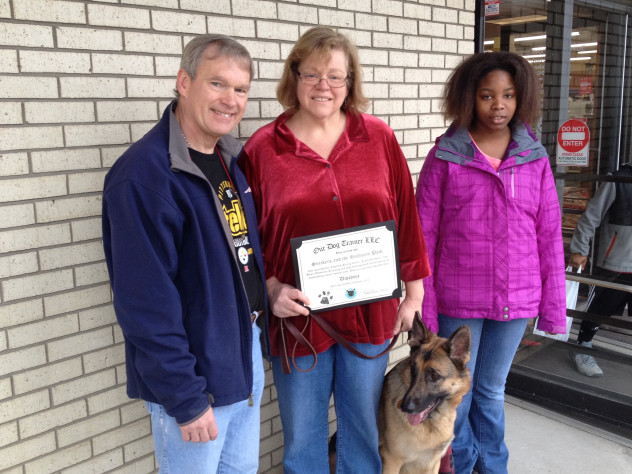 "Snickers is a 2 1/2 year old female Shepherd. At home she is a love mush. Outside she was reactive to dogs and people. Snickers was reactive to people in the alley, dogs walking by; even if we were in the car, dogs on the sidewalk had her attention. To take her for a walk we needed pockets of hotdogs and strength. We tried other training, and it didn't work well.
Scott came to the house, spent the time explaining the program, before we signed on. He met Snickers and help us delineate expectations.
When training started (a family event), Snickers' behavior was remarkably changed within the hour! We had a dog who was being trained as a dog, not a small human. With every class Snickers became comfortable in knowing what was expected of her and what her job is.
Snickers has graduated and we continue the program on a daily basis. I enjoy walking her! Our walks are getting longer and longer, reactive dogs (we are in a city neighborhood with dogs aplenty) will walk by and she looks and turns away.
Scott provides text and phone support, encouragement, and guidance. He came to our home so Snick was trained in her neighborhood, so the local distractions, etc., were what we would encounter everyday. Much better than training in an artificial environment!
Thank you Scott!! You understand dogs, how they think, and your training methods are concise, fact based, and the results are proof!!"—Donna Huttunen
Buddha: Trainer-Labeled Uncontrollable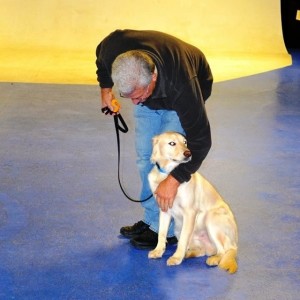 "We rescued Buddha last winter as a pup. We have a sweet, friendly Golden Retriever/Great Pyrenees that is about one year old now. We also have two 8 year old boys and the combo of them and a super friendly young dog was often chaotic. Buddha would jump on people, mouth and nip the kids, chase bikes, cars and scooters and would only come when called if he felt like it. We tried a group click and treat dog obedience program and it was a disaster. Buddha wanted to play with every single dog there and treats just didn't motivate him. The trainer thought Buddha was going to bite another dog and we felt so demoralized that we quit just before the last class.
Buddha knew a few commands but still had his bad habits…nipping the the kids, jumping, chasing cars and bikes and his recall was still inconsistent. He also pulled me along on all of our walks. Finally, we found Scott and our lives have dramatically changed for the better.
We did Scott's weeklong program where he would work with Buddha during the day and then work with us for about 30 minutes in the evening. It was amazing how much calmer and relaxed Buddha seemed to be after even a day. He is finally the sweet, loving, well-mannered dog we always knew he could be, and we finally have the tools to help him. Just check out Scott's videos he posted of Buddha and see the results for yourself. We couldn't have done it without Scott. Even now, the continued support he provides is invaluable as we continue to perfect our techniques. So, thank you Scott! Thank you for helping Buddha be the best family member ever!" —Amanda Main
Snowy Day: Separation Anxiety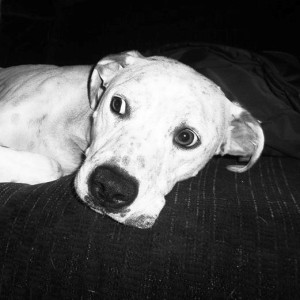 "Life before training compared to life after training is completely night and day. I have a two and a half year old boxer mix (Snowy Day) that, for a while, was driving me completely nuts. He has always been a sweet dog, and very happy-natured. However, he was really lacking in manners. He constantly pulled me during walks, knocked me down when he got excited, never listened to commands. He was overall a simply wild dog. He really lived like he was his own boss and did as he pleased. All of these problems were very discouraging—but most of all, our issue was separation anxiety. I went through a countless number of indoor and outdoor kennels, had to replace my sofa three times, and was always a nervous wreck coming home from work, for fear of seeing what he had done in his moment of weakness at home alone.
Everything quickly changed after training started. Scott showed me how to be the greatest dog owner, and just as Scott predicted, Snowy Day followed my lead and became the greatest dog. As cheesy as it sounds, Our Dog Trainer really has changed the life of everyone in my household. The foundation of training gave Snowy Day a sense of comfort, routine, and security. Not only did I notice his behavior difference early in training, but he really was much more relaxed and happy in general.
I still remember the first day I put Snowy Day's collar on to take him outside like I do every morning and instead of jumping on the door and bolting out of it the second it opened like he normally did, he actually sat patiently and didn't move a muscle until I gave him the "Okay!." I was baffled at the fact that I was finally able to walk out the door first. For once, I wasn't dragged out of my house by my dog. I was able to calmly and casually go out at my convenience.  I can now leave for work, knowing he will be fine at home, I can walk him around my neighborhood without being made a fool, and I can finally have the relationship with my dog that everyone wants to have.
I truly appreciate Scott for all that he has done with Snowy Day and me. He honestly has brought peace to my household. Snowy Day and I are finally on the same page and can live in harmony with one another. Thanks again Scott! You have no idea the difference you have made!"—Samantha O'Neil
Charlie: Obedience for Senior Owner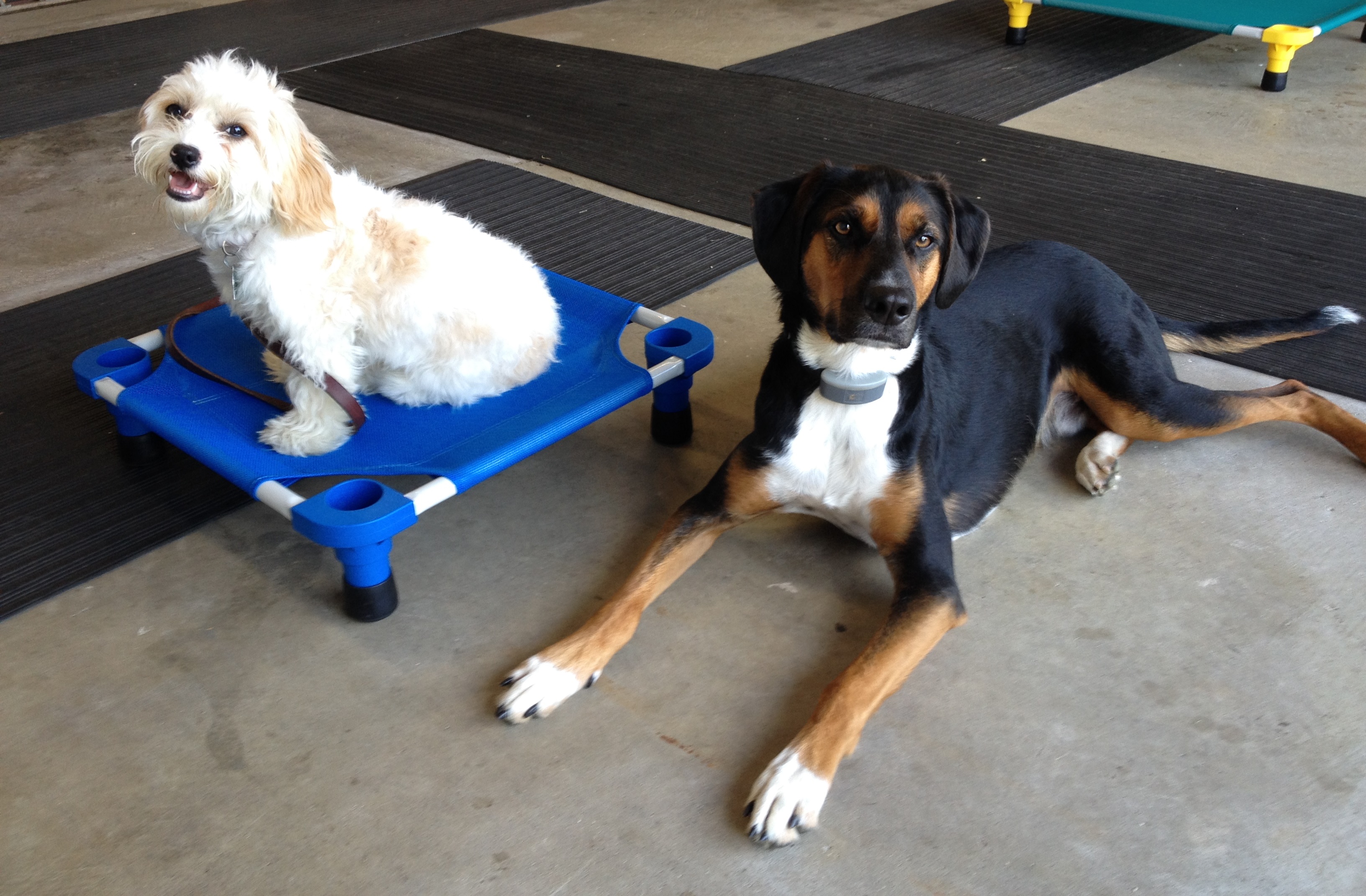 "We got the Cavachon puppy 9 months ago for my mother-in-law. She was an adorable puppy named Charlie. When we got her, she was so small. It was like having an infant, and she seemed so sweet and helpless. Before long, it was more like having a toddler in the house, not doing as we asked. She would jump up on us, scratch the carpet, and pull on the leash. In general, she just was not well mannered.
We hired Scott to work with her every day for 5 days. He would come to the house to pick her up, work with her, return her, and then work with the family. Even during the evaluation before the program started, Scott began teaching us how to work with Charlie ourselves. While he worked intently with Charlie, he also had to teach us. It turns out that we were confusing Charlie and sending her mixed signals. It seems Scott was training Charlie and us. As Scott worked with Charlie, he would send video so that we could see how she was doing and see him train. It was awesome.
Charlie still needs us to work with her to reinforce the work he did, but it has definitely made a change in her and us. She is able to heel. My personal favorite is "place", which has her go to a place and stay there calmly and quietly until she is told that she can get up. When she gets rowdy or ill mannered, we can send her to "place" to calm down.
Scott has an amazing gift with dogs. You see it the moment he meets the dog. He is firm, but not mean. He doesn't raise his voice. Charlie immediately liked and respected him. She behaved for him quickly. Scott is also good with owners who need some training. He helped us see changes we needed to make without making us feel like we were being scolded or judged. It was a great experience. It's nice that even now we could text him for his thoughts. I am glad we made the investment in Charlie and appreciate all Scott did. He is "as advertised" and very knowledgeable.
Bravo, Scott. You know so much. It seems so obvious once you say it. Thanks!" —Jill Jones
Kody: Dog Aggression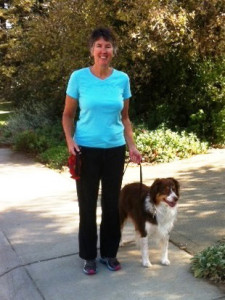 "We highly recommend hiring Scott to work with your dog and you! We are very happy with the results. Our three year old dog, Kody, a highly energetic Australian Shepherd, was hard to take on walks. She constantly pulled on her leash and was aggressive towards other dogs. Scott was able to work with Kody and several of our family members to modify Kody's behavior so that we can now walk her!
Scott is very professional, consistent, caring, and we had an overall wonderful experience!" —Melissa Tyson
Marla: Obedience Training
"We got in touch with Scott to help us train our two dogs, Marla and Murray. But Scott really trained us. 🙂 They can now walk on leashes without pulling our arms from their sockets. They sleep in kennels. They don't jump on people. They don't barge in the door (or out of the door). It's been an amazing change in our household! Our dogs are now good citizens and I am proud and confident enough to take them anywhere!
Thanks Scott!" —Amy Roussel Whittinghill
Lillie: Obedience Training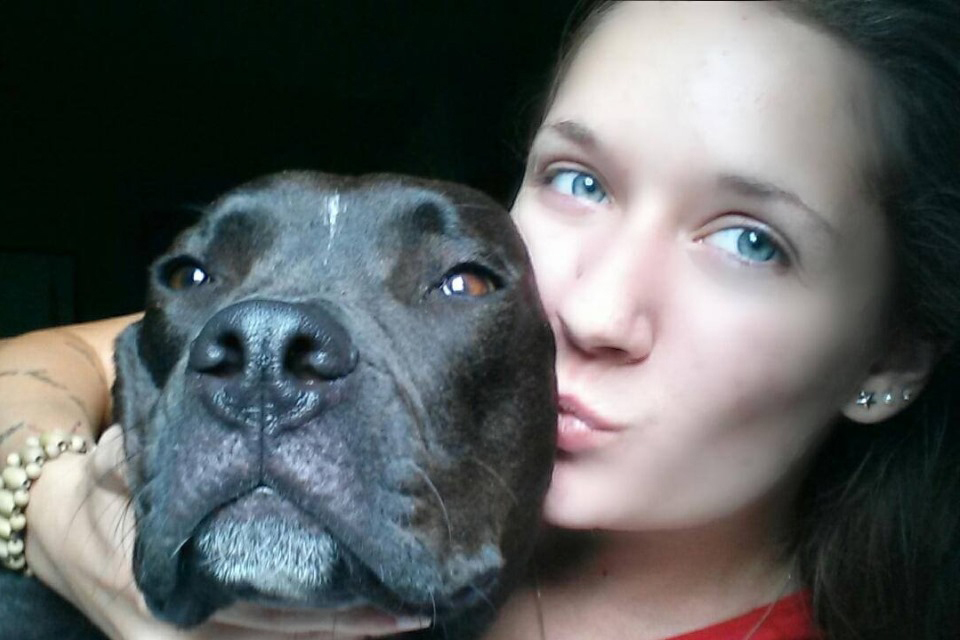 "Today Lillie and I graduated from our training! I am very proud of her and myself! When I first got her I found out that she had been through three owners and was not well socialized. And she was 50 pounds of pure muscle that I had no control of. (She is a pit bull/lab mix.)
Thanks to the Our Dog Trainer program those issues are gone! She has gone through obedience training and the change in her is astonishing! She will sit, lay down, heel, come, and stay in one place on my command! She is even socializing better as each day goes by!
I definitely got more then what I paid for when it came to training her. If I needed Scott (the trainer) he was there to help! He helped Lillie when she was traumatized by fireworks on the 4th of July. Now they don't even bother her anymore! I would highly recommend this training program!
Thank you Scott Borden for not only training my dog but helping Lillie and I bond!" —Katie Harrison
Fitz (French Bulldog): Leash Aggression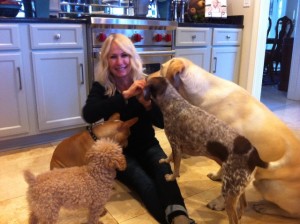 "I can not say enough about the positive impact that Scott had on our family (humans and canines)! Scott worked with our three dogs (and me!) and after the first session I saw results. Each dog had individual issues that needed assistance. I was immediately impressed with his knowledge, patience and calm nature.
His true love for dogs was evident throughout our sessions. One issue with our dogs was during our daily hour walk. He actually came and walked the hour with us to witness the issues. Scott provided easy to understand-and-implement corrections. Now, walks are enjoyable and I return relaxed and stress free.
It was actually sad to see the training come to an end. Scott has become our friend and the dogs are crazy about him. He not only trained the dogs, but educated me on how to train and continue to work with our dogs.
Scott truly goes above and beyond to ensure success!" —Debra Flowers
Pearl: Serious Dog Aggression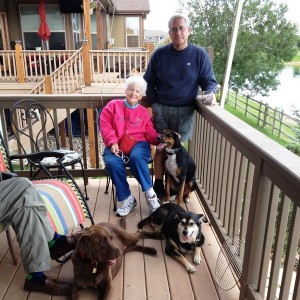 INITIAL: "Our dog Pearl, a shelter dog, had apparently not been properly socialized as a puppy. Consequently she acted with aggression toward other dogs. Scott was able to identify this "fear-aggression" and help us find proper techniques to control it. Within one session he had Pearl and his dog, Rocket, walking together in a pack walk. After another couple of sessions, Pearl and Rocket were actually palling around like old friends. We highly recommend Scott and his techniques in dog training."
UPDATE: "Since we have been using Scott's techniques for the past few months with our dog Pearl, we have noticed a marked change in Pearl's behavior. Instead of showing aggression to other dogs, she is becoming conditioned to associate other dogs with pleasure. Thanks Scott!" —Beth and Clarke Wright
Belle: Obedience Training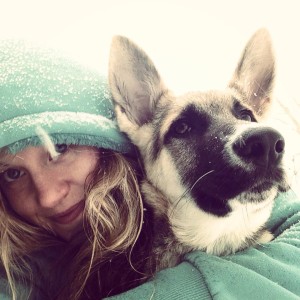 "I highly recommend Scott if you are looking for someone who knows what they are doing! I first met him at a 'puppy class' that our vet put together. He was giving little tips and going over some training techniques. I had planned on sending my German Shepherd puppy, Belle, to a training school when she was old enough. He then proceeded to tell me that he was a trainer!
We started classes with Belle as soon as she was the right age, and she learned so quickly! And she LOVED Scott! He was very calm and incredibly patient, even with me! I had to learn just as much as Belle did. He was extremely flexible with scheduling and always came out to my home if I needed him to. I'm so happy that Scott was willing to train us! He did a fantastic job and I highly recommend him to anyone who is in need of a trainer. If I ever get another dog in the future, I know who I'm calling!" —Sarah Cartisano
Deacon: Anxiety and Uncontrollable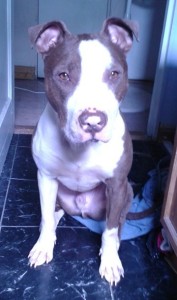 "I cannot thank Scott enough for our new way of life! I have a two year old Pit Bull named Deacon who is such a sweet baby, but he had no manners at all. Our major problems with Deacon were jumping all over me and other people for attention, not listening to me after sitting for more than a few seconds—then he was back up ignoring me—and leash walking was horrible—lots of pulling.
Scott took his time with training me and Deacon. He worked around my busy schedule. The training was very positive. I had results in the first day. I never thought I'd see the day my dog would be doing down/stay in the middle of Bass Pro with me walking away, or walking right beside me on leash! I couldn't be happier with all the results.
If you're looking for someone caring with an understanding love for dogs, Scott's the trainer for you!" —Kaitlyn Lee
Penny: Dangerous Leash Pulling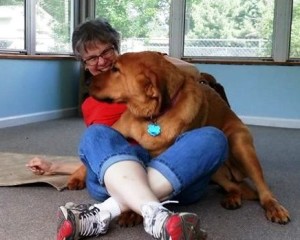 "I am happy to recommend Our Dog Trainer. I adopted a 6 mos. old lab mix pup, Penny, last summer as a rescue. She is expected to reach about 95 lbs. Her foster family did not have specifics on her early life experiences but she had not been leash trained. As soon as I could get her into a training class, we started using a clicker and all positive reinforcement. We did well with the basics but loose leash training progressed slowly. One evening we were walking, and I thought we are finally getting this down. The next thing I knew, I had landed on my head and arm, having gone airborne in a heartbeat, luckily landing on grass.
Scott came over and taught me how to work with her, using leash pressure. I don't think I realized until after we were able to walk safely how worried I had been and intimidated by a behavior problem that threatened our relationship. I've never had a dog this big and have to be able to safely control her. She is very sweet and affectionate but could really hurt me. In just one session, I learned how to walk her safely. I am very thankful for Scott's assistance and know Penny is too." —Beth Frey
Bear: Obedience and Socialization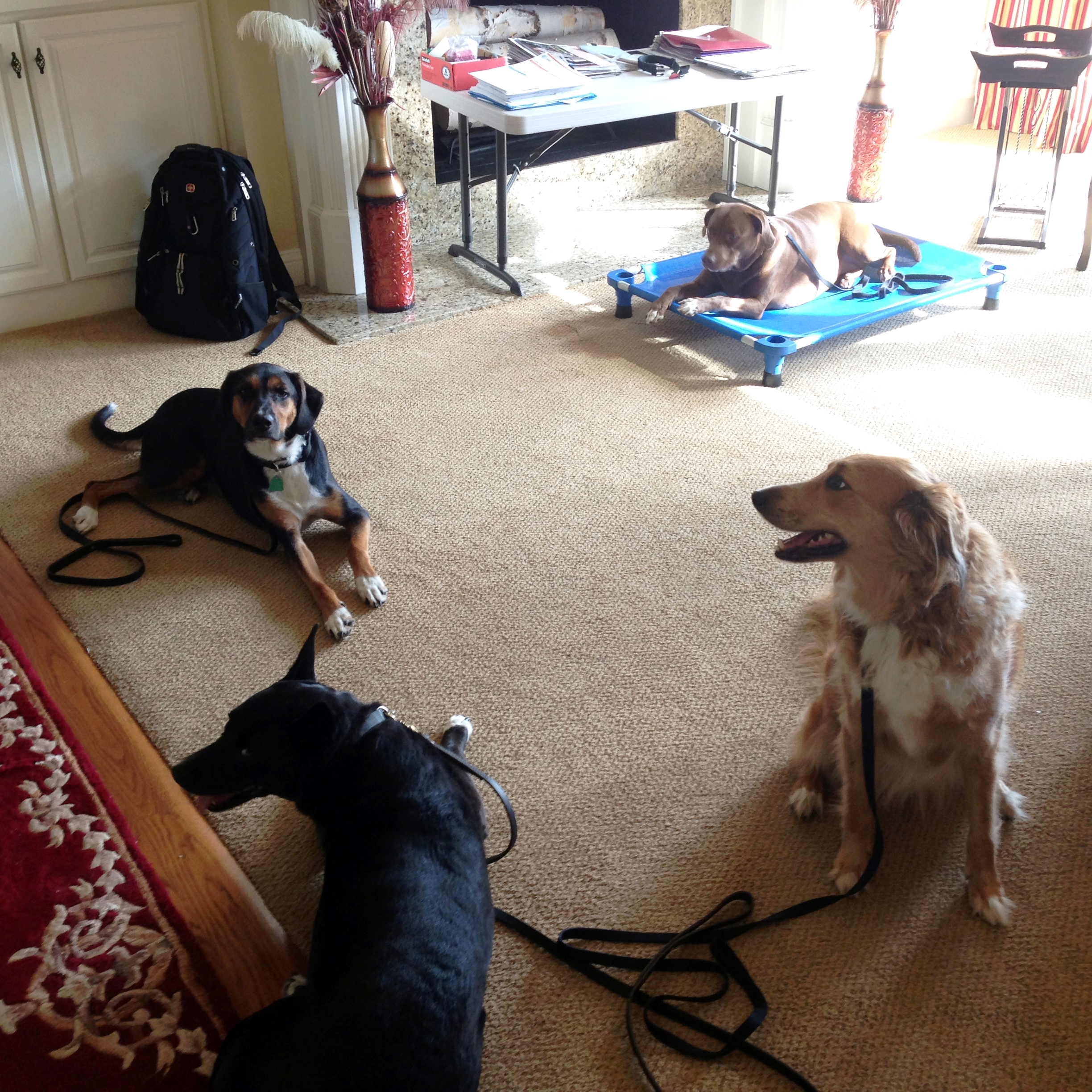 Cassie and Claire: Out of Control Littermates